Blagdon Pump was founded in the early 1950's in the North East of England as a specialist pump manufacturer. In 1979 production of Air Operated Double Diaphragm Pumps commenced and Blagdon soon became the market leader.
In 1997 the US based multinational "IDEX Corporation" acquired Blagdon Pump to strengthen their global position in the double diaphragm market.
Blagdon Pumps produce high quality Air Operated Double Diaphragm (AODD) pumps that have long been recognised as the "Work Horse" of industry for handling "difficult" liquids at relatively low pressures and flows. The equipment Blagdon produce will handle almost every media thrown at them by utilising a wide range of body materials, diaphragms and valve ball types. A wide range of the Blagdon pumps are also EHEDG, ATEX, ISO compliant.
Blagdon Pumps are available in a choice of materials and finishes to suit all aspects of modern day pumping requirements including:
Metallic Range - ¼" to 3" : Stainless Steel, Aluminum and Cast Iron
Non-Metallic Range - ¼" to 2" : Polypropylene and PVDF
Hygienic Range - ½" - 2" 316L Stainless Steel (Polished)
FDA Compliant Range - ½" to 2" 316L Stainless Steel (Polished)
High Pressure Full Flow Range - 1" to 2" : Stainless Steel, Aluminum and Cast Iron
PTFE Range : ½" to 1" : Conductive and Virgin PTFE
A new addition to the Blagdon Pump range is the Air-Vantage Series (Download PDF) which offers:
Reduced Air Consumption
Adaptable to existing process conditions
Save energy while maintaining flow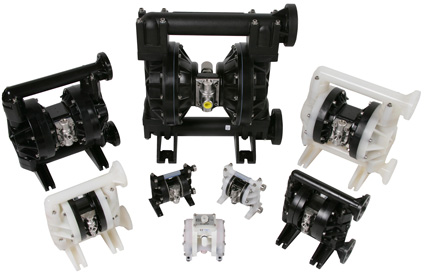 Blagdon Pumps: Key Process Accessories
Bespoke pump build eg: steam jackets, trolley pumps, stroke counters etc
Pulsation dampeners
Filter regulators
Flange options
Blagdon Pumps: Key features and benefits
Blagdon pumps can run dry without damage or danger.

They are fully submersible.

They are designed to operate at low noise levels.

They have leak-free air valves that are easily removed for servicing.

They can be easily maintained. They can be stripped down quickly without any specialist tools.

They are self-priming to over 6 metres.

They are pressure balanced. They stall if discharge is closed and restart when discharge is opened so avoiding heat build up and wearing of components.

They have minimum product agitation.

They have long stroke, slow speed cycling capability for low initial break out.

They are portable and compact, can be remotely controlled and fully packaged.

Safe in hazardous areas, no sparking, air-driven.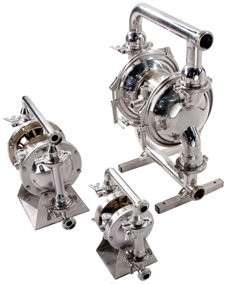 Blagdon Pumps: Applications
Liquid Transfer
Slurry Handling
Filter Feeding
Circulation
De-watering
Low Pressure Spray Supply
Tank/Sump/Barrel/Drum Filling and emptying
Batching/Mixing/Metering/Dosing
and Chemical Injection etc.
Pump and Package not only hold an extensive range of Blagdon pump models but we also have an extensive range of spares within our stockholding. The Service and repair of Blagdon pumps is a key aspect to our service portfolio.
Available Downloadable Brochures

(click to download PDF)