Kenco Engineering have been producing high quality process equipment products since 1958. Kenco manufacture a range of Precision Gauging, Injection and Measuring equipment covering:
Electronic Level Measuremnet
Mechanical level measurement
Sight flow indication
Chemical process equipment, including chemical injection and calibration pots
Pump and Package Ltd have been representing Kenco Engineering since 2003 and Kenco's range of high quality process equipment ensures it is a popular and trusted solution.
Pump and Package have a significant stock-holding of Kenco equipment which means that we can offer next day delivery on many items and even same day delivery to customers with critical plant.
A summary of Kenco equipment offered includes: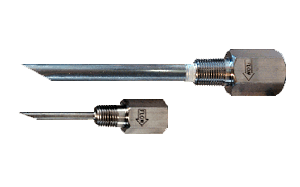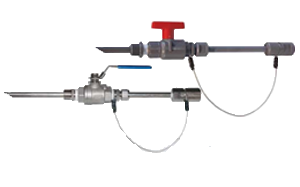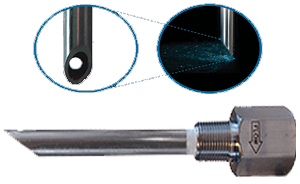 Injection Quills:
KENCO Engineerings range of chemical injectors have been designed to inject and properly atomize corrosive chemicals into the turbulent stream of a process system pipeline. The KENCO chemical injector will minimize the possibility of corrosive chemical build-up on the walls of the pipeline.
The KENCO chemical injectors are recommended for use in pipelines with a flow-rate velocity of 40 feet per second (12.192 meters per second), or less.
Injection Quills: Features
Unique apirator tip design on injectors
Check Valve in injectors eliminates backflow
Fixed and retractable models available
Ball check material is ceramic on all models
Ball check springs in a range of materials
Manufactured in a range of materials.
Injection Quills: Industries
Natural Gas Transmission and Distribution
Oil and Gas Production
Petrochemical Processing
Fluid Processing
Water Treatment
Pulp and Paper Processing
Mechanical Level Measurement:
KENCO Mechanical Level Gauges are an ideal choice in tank level measurement for quality, durability and reliability. When visual level indication is required, KENCO has an affordable solution to meet requirements and offer a comprehensive range of mechanical level measurement products.
Level Gauges: Features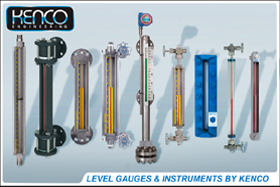 All styles available in a wide range of material options.
A wide variety of gauge styles available to meet your piping requirements
Armored Tubular Glass Level Gauges suitable for low to medium pressure applications
Armored Flat Glass Level Gauges(Reflex / Transparent / Weldpad) suitable for medium to high pressure applications
Magnetic Level Gauges suitable for low to high pressure applications
Simplified designs for ease of installation and maintenance
Level Gauges: Industries
Onshore and Offshore Oil and Gas Production
Chemical and Petrochemical Industries
Food and Beverage Processing
Pharmaceutical Processing
Marine Industries
Water and Wastewater Treatment
Fluid Processing
Level Gauges: Applications
Fuel and Solvent Storage Tanks
Lubrication and Oil Storage Tanks
Boiler Feedwater Tanks (Boilers)
Detergent and Soap Tanks
Ammonia Storage Tanks
Acid Storage Tanks
Surge and Scrubber Tanks
Hydrocarbon Seperators
Chemical Process Equipment:
KENCO Calibration Gauges are primarily used as a means of accurately setting and monitoring the flow rate of a chemical metering pump. Calibration Gauges serve as one of the most critical components of a chemical metering system. They ensure that chemicals are dispensed in exact quantities within an application. This reduces the amount of excess chemical utilised in a process, and saves production costs. Problems with a chemical metering pump can be identified with a calibration pot.
Chemical Process Equipment: Features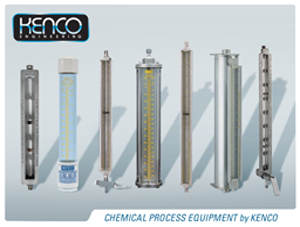 All models are available in a wide variety of materials for superior chemical resistance
Suitable for onshore and offshore applications
Custom sizes available to accommodate for high or low flow rates
Each unit is factory tested to ensure quality and functionality
Chemical Process Equipment: Industries
Oil and Gas Industries
Chemical and Petrochemical Industries
Pulp and Paper Processing
Water and Wastewater Treatment
Fluid Processing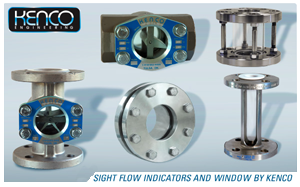 Sight Flow Indicators and Sight Windows:
The KENCO Engineering Company offers a variety of Standard KSF (cast body), Full View and Armored Sight Flow Indicators, as well as, a complete line of Sight Windows.
Sight Flow Indicators provide a window into piping. These products offer a cost effective and efficient way to visually monitor the flow of fluids, and to determine if any problems areas exist along a process piping system. These devices allow operators to observe flow rate, direction, color and clarity of the fluid traveling through the process piping.
KSF Sight Flow Indicators feature a cast body design and is ideal for applications where there is higher temperature and pressure. They are available with a variety of internal mechanical indicator options that enhance visual indication of the fluid in the process.
FVSF Full View Sight Flow Indicators offer the maximum viewing area of all types of sight flow indicators and allow for a 360° view of the fluid being observed in a pipeline.
ASF Armored Sight Flow Indicators offer the best mix between visibility and protection. The additional sight tube shielding provides protection, while still maintaining maximum visibility.
Sight Windows are used to provide direct reading of process liquids. They can be mounted directly to a vessel wall, or to pipe, in a variety of configurations.
Industries Served:
Onshore and Offshore Oil and Gas Production
Chemical and Petrochemical Industries
Food and Beverage Processing
Pharmaceutical Processing
Water and Wastewater Treatment
Fluid Processing
Available Downloadable Brochures

(click to download PDF)
Electronic Level Measurement:
Mechanical Level Measurement:
Sightflow indication:
Chemical Process Equipment: