With more than 60 years of experience in the design, manufacturing and installation of process equipment and turn-key units, Pierre Guerin has acquired an extensive knowhow of technologies and unit operations in the Food & Beverage and Life Sciences Industries.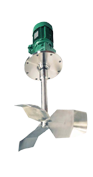 Pierre Guerin - Experts in Agitation
Mixing has particular importance as it often determines the quality of the final product. To meet these requirements, Pierre Guerin offers an extended range of agitators which suits any type of mixing operation. As specialists in agitation we can provide you with all the expertise to achieve your processing objectives and improve productivity.
Pierre Guerin - Experts in Blending
At the heart of the range of Pierre Guerin components, the POLYMEL blenders are dedicated to the dissolution of powder into liquid which enhance the process performance and the working conditions of the operators.

Pierre Guerin - Experts in Storage Vessels
The stainless steel storage tanks that Pierre Guerin produce are highly sought after in the wine, dairy, pharmaceutical and food industry producing a high quality fabricated unit. Pierre Guerin design and manufacture vessels and complete processing lines for major clients whose reputation depends on quality of their products
All these components are designed to comply with the highest requirements of sanitary and hygienic design, according to the EHEDG and FDA.
Pump and Package has enjoyed a long and successful association with Pierre Guerin for more than 20 years and we can assist you in the correct product selection, assuring you of the highest quality components, whatever the application. Pump and Package also have a significant stock-holding of key components to support your process components on those occasions when you need it most.
Available Downloadable Brochures

(click to download PDF)