We are proud to be agents for Lowara UK Ltd (part of the Xylem group) who have been market leaders in water technology applications for over 40 years. Water is the principle element of life and the common denominator of all applications where Lowara pumps are used.
Lowara pumps are made in fabricated stainless steel, which keeps the water free of contamination. The laser welding technology creates pumps that are resistent to aggressive chemicals and guarantees that the production process respects the natural environment.
Advanced pump control and regulation systems ensure the safe, reliable and economic use of water.
Lowara offers a complete range of pumps for industrial applications and is committed on drinking water process, water treatment, industrial washing equipment and machine tool cooling.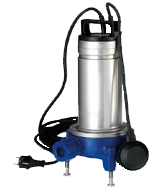 Lowara Pumps: Range
Centrifugal Range : End Suction
Close Coupled In-Line Pumps
Multi-stage
Submersible, Drainage and Sewage range
Borehole
Booster Sets
Variable Speed Drives
Pump and Package hold an entensive range of Lowara pumps in stock, coupled with significant spares.
A fast and efficient repair service is offered by members of the experienced engineering team to keep your process functioning smoothly.
Available Downloadable Brochures

(click to download PDF)